January 14, 2014 By Kim 8 Comments
Hello, beautiful people! Hopefully, your week is off to a fabulous start. Mine is going great, so far. Today, I'm linking up for the first time ever with Lisa from The Skinny on Health for Fit Tip Tuesday. Read all about #FTT and check out other tips here.
You've heard it before and you'll hear it again…. breakfast is the most important meal of the day. Why is breakfast so important, though? Getting plenty of fiber in the morning means that you'll stay satisfied longer and be less likely to gorge yourself with sugary foods later in the day. Also, eating first thing in the morning gets your metabolism going and keeps it more active throughout the day. Studies even show that people who eat breakfast are thinner than people who just rush out the door. And there's your fit tip of the day!
Banana Almond Brown Rice Breakfast Porridge
Prep Time: 10 minutes
Cook Time: 10 minutes
Total Time: 20 minutes
Yield: serves 2
Serving Size: 1.5 cups of brown rice porridge
A great way to use up leftover brown rice and add some variety to your morning breakfast bowl.
Ingredients
2 cups brown rice, cooked (reserve 1/2 cup)
1 ripe banana
3/4 cup non dairy milk (I used unsweetened almond coconut milk.)
1/2 teaspoon cinnamon
1/2 teaspoon vanilla extract
1/4 teaspoon almond extract (optional, but adds a wonderful flavor)
pinch of salt
sweetener as needed (I used one stevia packet. Honey or maple syrup would also be good options.)
Instructions
Puree all ingredients in a high-speed blender or using a handheld mixer (minus 1/2 cup brown rice).
Pore the pureed brown rice mixture and the reserved 1/2 cup brown rice into a small saucepan and heat over medium-low heat. Add extra milk, as needed for desired consistency.
Cook until mixture warms and thickens.
Serve in two cereal bowls or refrigerate leftovers for several days.
Top with chopped or sliced almonds, shredded coconut, dried fruit and/or fresh fruit.
Notes
If you don't have leftover brown rice, but want to cook brown rice especially for this recipe; bring 1 cup uncooked brown rice and 1.25 cups water to a boil, reduce heat to simmer, cover pot and allow rice to simmer for about 45 minutes.
http://www.hungryhealthygirl.com/2014/01/14/fit-tip-tuesday-and-banana-almond-brown-rice-breakfast-porridge/
Of course, to get the full benefit of eating in the morning, you need to be eating the right types of foods. Take this Banana Almond Brown Rice Breakfast Porridge, it packs a punch with healthy fats, protein, complex carbs and plenty of fiber to keep you going up until lunch. For a little extra protein and healthy fats, add chopped almonds or almond butter.
Click on the button below to check out all of the lovely Fit Tips!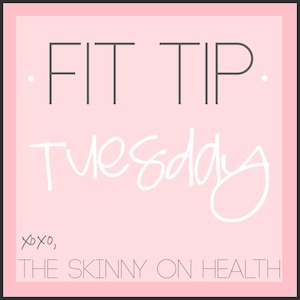 Something to think about…..
Are you a breakfast eater? If so, what's your favorite breakfast.
Have you ever tried a sweet brown rice for breakfast?
Do you have any fit tips to share today? Please share in the comments, if you do!
Have a lovely Tuesday and I'll see you back here tomorrow for What I Ate Wednesday, cleansing style!
**8 Comments** Filed Under: Uncategorized Tagged With: Banana Almond Brown Rice Breakfast Porridge, breakfast, brown rice, fit tip tuesday, healthy breakfast, the importance of breakfast
January 12, 2014 By Kim 22 Comments
Happy Monday, everyone! I'm linking up with The Healthy Diva and Marvelous in my Monday, to bring you two marvelous things. First up, a yummy granola bar recipe! Now that we're back in a normal routine, going to work and school, I'm trying to pack healthier snacks for the kiddos. These are fairly healthy, but […]